2018年度
NJE3
Experience in Japan
Egorova Saiyyna
North-Eastern Federal University, Yakutsk, Russia
Sustainable development of the Arctic
Master course 1
Period: 27 August 2018 ~ 31 August 2018
Host University: Hokkaido University
FY2018 Basic Subjects
Learning outcomes
This year I took part in Introduction to Far East and Arctic Studies Russian-Japan Joint Education Program: Environment, Culture and Sustainable Development.
I expected a lot to participate in the Hokkaido summer Institute, but what happened in reality – far exceeded these expectations. The program was extensive. There were many different and interesting people from Japan, China, Indonesia, Russia and Europe. I have learned a lot of interesting and important material about the environment, culture, economics, and sustainable development. Here all want to share the experience and knowledge.
Experiences in Japan
I was fascinated by the beauty of this place. The ginkgo road and the farm at the University of Hokkaido were particularly impressed. I first saw how rice is grown. Here you can find a lot of places for moral rest. Hospitable residents of Sapporo left an excellent impression. Also, I managed to see the Old Government Building, built in 1888 in the style of the American neo-baroque. Red brick and stone decoration in the corners, pinnacles, attic with a perfectly complementary garden of sheared bushes and trees.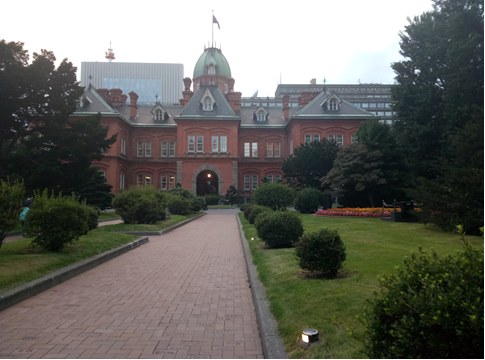 Separate praise deserves Japanese food: ramen, curry soup, curry rice, pudding University of Hokkaido – it's just the divine production of gastronomic art! I want to come back and eat it again and again!
Influence on future career goals and choices
Participation in these courses gave me an unforgettable and incomparable experience in the socio-cultural terms, in professional and personal development. There was a lot of information about culture, ecology, economics and political development, I got new knowledge in my specialty. Now I know that in my future career we will cooperate with Japanese colleagues and exchange knowledge and experience.
This is an excellent opportunity to get acquainted with the educational system and culture of another country from within, to acquire the skills of independent life, to established new contacts, to significantly improve your English and start learning another foreign language.
Comments
Undoubtedly, we – the participants became friends, learned about each other working together as one big team. And, of course, I will miss these moments. I want to express huge gratitude to Hokkaido University and NEFU for the opportunity to participate. As well as all the organizers of the HSI, you did a great job.